Molinos mallorquínos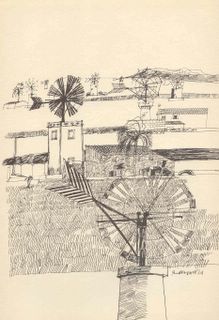 A veces
Robert
Graves
, que vivía en
Mallorca
, se divertía traduciendo del español de una manera literal y jocosa:
Trín Trín Trín!
Speak to me!
Is that the house of Gravés? Can one talk with Don Roberto?
At the apparatus! On behalf of whom?
I am Don Blas Mas y Mas.
A thousand pardons, Don Blas. In consequence of the bad telephone connexion I did not fix in my mind that it was you.
How do you find yourself, Don Roberto?
Very rickety well, thanks be to God!
I celebrate it. And your graceful spouse?
Regrettably she is a trifle catarrhed.
I much lament it. And the four beautiful children?
For the present, thanks be to the saints, well enough. I feel overwhelmed by your amicable inquiries. But you, Don Blas? How goes it with you?
A stupidity has occurred to me. I am speaking from my uncle's private clinic, having broken my arm in various places.
Ai, Ai, Ai! I feel it painfully... What a most disgraceful event! I wager that it somehow had relations with motor-bicycles.
Mathematically correct, Don Roberto!
Desde su libro
Majorca Observed
(que cuenta con los dibujos estupendos de
Paul Hogarth
).