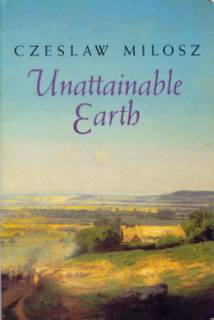 Some day soon I may hear he has died. Czeslaw Milosz, the writer, is seven years short of his century. He was born in 1911 in old Lithuania, then part of tsarist Russia. He will die as a Polish-American poet. That is how the headlines will capture his essence. My guess is that his death will be recorded here in Australia, if only because his name has been yoked with Nobel's since 1980, when he was awarded the literature prize.
Until now, I've always hesitated to write about Milosz. In the first book of his to come my way, I found this quotation from Goethe:
"Whatever one knows, he knows for himself only and he should keep it secret. As soon as he reveals it, contradictions appear, and if he begins to argue, he will lose his equilibrium, while what is best in him will be, if not annihilated, at least shaken."
More
, from
The Australian newspaper
.
Y
aquí
, algo de Milosz en el castellano.